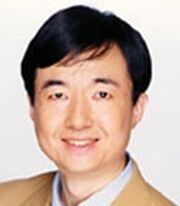 Yasunori Masutani (born July 5, 1961) is a Japanese voice actor who voiced Aranaut in Bakugan: Gundalian Invaders. It is currently unknown if he will voice him in Mechtanium Surge.
Other Notable Roles
Raphael Sorel (Soul Calibur series)
Etemon/MetalEtemon (Digimon Adventure series)
Mercuremon/Sakkakumon (Digimon Frontier)
Noritohassami (Zatch Bell)
Sanjuro (.hack//Legend Of The Twilight)
Orca (.hack//Unison)
Gorosei, Mr. Disco, Jean Bart and Attachan (One Piece)
Keeler (Cyborg 009)
Mega Zarak (Transformers: Energon)
Knockout (Transformers: Prime)
Mongul (Batman: The Brave and the Bold)
Guan Yu, Wei Yan (Dynasty Warriors)
Community content is available under
CC-BY-SA
unless otherwise noted.