What public social media accounts do you guys have? (No personal stuff, unless you really do want to expose that.) What wikis do you currently edit at?
I can be found on Twitter at @Drullkus. I'm also available on the IRC. I'll be pretty much anywhere on the Minecraft Modded community.
I'm highly active and an Admin on Battle Nations Wikia. I'm going to adopt the Plundernauts Wikia soon :D
We should get together on the IRC around Thankskicking. The stubborn Wikia Chat doesn't like to work for me.
[ Drullkus Industries. "Abusing infinity to new levels." 01:59, October 22, 2014 (UTC) ]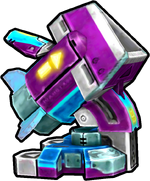 Community content is available under
CC-BY-SA
unless otherwise noted.