EVERYTHING IS NOW PUBLIC ON THE MAIN WEBSITE - SEE THE THIRD EDIT AT THE BOTTOM
As many of you know, Bakugan Battle Planet is preparing for release in Spring 2019, and the hype is constantly building.
Just today, Discord member "seewhati" posted a link to the supposed developer website for Bakugan.com. The page (screenshot at the bottom of this post) has a colored logo for Battle Planet (pictured to the right) as well as a place to enter your date of birth followed by an email address. However, the interesting bit is located above the logo: "Answer the call to brawl: DEC 1ST"
December 1st is much earlier than the Spring 2019 release date that Battle Planet is projected to have, so what could it refer to? The actual release date? The official reveal? I'm personally leaning towards the latter, but feel free to leave your thoughts and speculations in the comments below or in our Discord server under the #reboot-speculation channel.
It's very likely that this website is being used to develop a new Bakugan website and may be updated/cleared as time goes on.
This is a very interesting piece of information, and we will continue to watch the site (as well as the transcripts from the conference calls/investor meetings) for any new information as it becomes available. The fear of the worst is greater than the actual danger. 18:30, October 3, 2018 (UTC)
P.S. The hexagon/pentagon pieces on the rotating sphere can be interacted with to reveal an underlying black-red-white gradient. I've clicked on all of them, though, and nothing special happened. It must just be a fun little interactive bit of the website.
EDIT: The dev site has now been password protected. Seems SM found out that we have access to it. Oh well. Here's an archive of the site as it was earlier today.
EDIT THE SECOND: Now the archive is broken, too. Fantastic.
EDIT PART THREE: What was on the dev site before is now public! Check bakugan.com! The email list appears to have carried over from the dev site (I entered my email again and it said I was already subscribed), so there's no need to enter your email address again if you've done it already.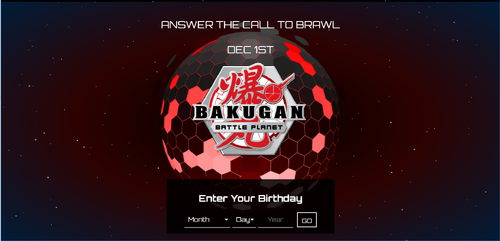 Community content is available under
CC-BY-SA
unless otherwise noted.