You have no new messages because Battalix Dragonoid ate them!!!! You want to find what they said? Dive into his stomach, I dare you.
ATTENTION!!!!! I AM MAKING A NEW ACCOUNT IN A FEW DAYS!!!!
Pictures
What I can do as a mentor
Teach people not to spam
How to put links
I'm getting better at templates...
How to recognise vandalisim/spam/ fixing the spacing in articles
How to put images
How to add the new messages colered sign thing.
How to change sigs
Poem
This poem is Before the Beginning of Years by Charles Swinburne.
Before the beginning of years
There came to the making of man
Time, with a gift of tears;
Grief, with a glass that ran;
Pleasure, with pain for leaven;
Summer, with flowers that fell;
Remembrance fallen from heaven,
And madness risen from hell;
Strength without hands to smite;
Love that endures for a breath;
Night, the shadow of light,
And life, the shadow of death.
And the high gods took in hand
Fire, and the falling of tears,
And a measure of sliding sand
From under the feet of the years;
And froth and drift of the sea;
And dust of the labouring earth;
And bodies of things to be
In the houses of death and of birth;
And wrought with weeping and laughter,
And fashioned with loathing and love,
With life before and after
And death, beneath and above,
For a day and a night and a morrow,
That his strength might endure for a span
With travail and heavy sorrow,
The holy spirit of man.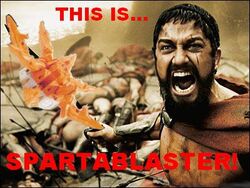 About My Awesomness
If you vandalize I will track you down and you will be taken care of by my contacts in the C.I.A. It will all look like an accident... SO BEWARE!!!!!!!!!!
Any Bakugan super cheap on Ebay!!!
I am a Pyrus Brawler but most of my Bakugan are Ventus. My Guardian Bakugan is Pyrus Battalix Dragonoid. My Bakugan Trap is Hylash and my Battle Gear is Nukix Gear.
This is my wiki on Hot Wheels Battle Force 5. Click this link. Please edit and DO NOT VADALIZE!!!
My Guardian Bakugan that I got in Bakugan Dimensions is Darkus Viper Helios but my actual Guardian is Battalix Dragonoid. The only 3 Bakugan I use are Darkus VIper Helios,Pyrus Batalix Dragonoid and Dragnoid Collosus. My BD username is LordExedra.
I am a member of Team Ventus.
I live in Edmonton,Alberta,Canada.
If you have any questions I will try my best to help you.
Wikias I Edit
Bakugan Wiki (kinda sorta)
Inheriwiki (Eragon Wiki)
Wikis I used to edit
Wikipedia
Golden Retriever Wiki
Bakugan two Wiki
Armor Games Wiki
Hot Wheels Battle Force 5 Wiki
One Wiki To Rule Them All ( Lord of the Rings Wiki)
Wikis I have certain rights on
Admin Rights
Mr Potato Head Wiki
Golden Retriever Wiki
Bakugan Wiki
Hot Wheels Battle Force 5 Wiki
Rollback Rights
Bakugan Wiki
Mr Potato Head Wiki
Golden Retriever Wiki
Hot Wheels Battle Force 5 Wiki
Crat Rights
Golden Retriever Wiki
Hot Wheels Battle Force 5 Wiki
Goals on this Wiki
10 edits done
25 edits done
50 edits done
100 edits done
150 edits done
250 edits done
500 edits done
1000 edits done
2500 edits done
3000 edits done
5000 edits done
6000 edits
8000 edits
10 000 edits
Being an Administrator done
Being a Bureaucrat
People I talk with
Bakugan
Pyrus
Aquos
Darkus
Subterra
Haos
Ventus
Community content is available under
CC-BY-SA
unless otherwise noted.