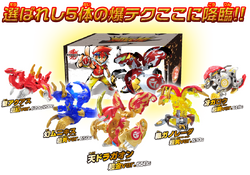 Super Five (超(スーパー)5(ファイブ), Sūpā Faibu)?) (Catalogue Number BTA-08) is a Bakugan set released in the BakuTech Series.
It contains one Gold Pyrus Rise Dragaon, one Clear Blue Darkus Hollow Munikis, one Yellow Clear Pyrus G-Ganorada, one Red Aquos Saint Aquas, one Gunmetal Haos Well Galow, one Gate Card, one Ability Card, and one storage box made of cardboard.
Bakugan Included
Cards Included
Gate Cards:
Ability Cards:
Trivia
Only the Gold Rise Dragaon and Clear Blue Darkus Hollow Munikis actually appeared in the anime series. It appeared during the demonstration in the season one episode Gachi Baku!
Contrary to the official shot, the Clear Blue Darkus Hollow Munikis is actually equipped with Gold-colored Nata Nagina Sole Parts instead of Gold Metal Hollow Parts.
Gallery
Community content is available under
CC-BY-SA
unless otherwise noted.