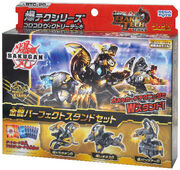 Perfect Stand Set is a set released in BakuTech Series.
It contains one Pyrus Flare Dragaon G, one Haos Kilan Leoness G, one Subterra Gran Panzer G, three Gate Cards and six Ability Cards.
Bakugan Included
Card(s) Included
Gold Gate: Team Perfect Stand
Copper Gate: Metal Powered Suit
Silver Gate: A War Cry
Blue Abilities: Gran Trinity, Kinjishi
Red Abilities: Universal Triangle, Senri-Gan
Green Abilities: Grand Chaos, Survival Shield
Trivia
Flare Dragaon is equipped with Destroy Metal Sole and Van Normal Cross.
Gallery
Community content is available under
CC-BY-SA
unless otherwise noted.