Info Image Gallery
Pearl Bakugan
are Bakugan that at the beginning of battle can either choose to gain their regular
Gate
Attribute
Bonus or a highlighted one. They have pearl white as their main color and outlined with their original
Attribute
body color. Pearl Bakugan were first found in
Bakutins
. Besides the regular one, there are two more types of Pearl Bakugan which function with no differences, namely Frost and Crimson and Pearl.
Frost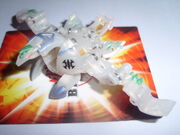 Frost Bakugan are Pearl Bakugan with glittered and more yellowish white body compared with the usual one. They also have silver highlights instead of highlights in their Attribute color, however, sometimes a small part of highlight in regular secondary color is kept. They were only released in B3 series.
Crimson and Pearl
Game
Crimson and Pearl Bakugan are Pearl Bakugan having red body color and white and sometimes dark metallic gray highlight. They were exclusive to Target. In Gundalian Invaders Wave 1, all Crimson and Pearls were Pyrus. In Gundalian Invaders Wave 3, they made in multiple attributes including Ventus, Haos and Subterra. Bakugan that were available in Crimson and Pearl treatment are Dharak, Strikeflier, Avior, Helix Dragonoid, Lythirus, Rubanoid, Contestir, and Hawktor.
Video Game
All Crimson and Pearl Bakugan, regardless of their printed attribute in the game, will appear as Pyrus.
Bakugan 1

 

Bakugan Battle Brawlers series (Bakugan Battle Brawlers)

Series 1
Series 2
BakuPearl Series
BakuClear Series
BakuSwap Series
Anime Exclusive
Video Game Exclusive
Community content is available under
CC-BY-SA
unless otherwise noted.