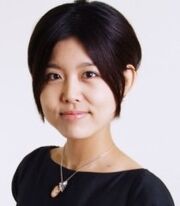 Miyuki Sawashiro (沢城 みゆき, Sawashiro Miyuki?, born June 2, 1985 in Tokyo) is a Japanese Voice actress who voiced Jenny and Chan Lee in Bakugan Battle Brawlers and Bakugan: New Vestroia.
Other Notable Roles
Celty Sturluson (Durarara!!)
Nekane Springfield (Negima!?)
Virgo, Ur, Ultear (Fairy Tail)
E.T.A.I. (Aika ZERO)
Seri Awashima (K)
Yoru (Shugo Chara!)
Khi (DearS)
Bishamon (Noragami)
Sinon (Sword Art Online)
Dlanor A. Knox (Umineko No Naku No Koro Ni)
Asako Shibasaki (Library War)
Kurapika (Hunter X Hunter 2011)
Hannah (The Last Remmant)
Shion Karanomori (Psyco-Pass)
Cammy (Street Fighter)
Fujiko Mine (Luppin III)
Ivy Valentine (Soul Calibur V)
Kivara (Kamen Rider Decade)
Canaria (Kamen Rider: Battride War)
Twilight Sparkle (My Little Pony: Friendship Is Magic (Japanese Dub))
Community content is available under
CC-BY-SA
unless otherwise noted.