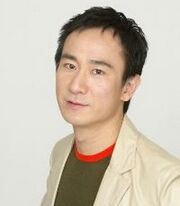 Ken Narita (born May 18, 1964) is a Japanese Voice actor who voiced Emperor Barodius in Bakugan: Gundalian Invaders and Mag Mel in Bakugan: Mechtanium Surge.
Other Notable Roles
Ryūken Ishida (Bleach)
Reborn (as an adult) (Katekyō Hitman Reborn!)
Jeremiah Gottwald (Code Geass)
Sesshomaru (Inuyasha series)
Jin Matsuoka (Gakuen Heaven)
Mario (Moon Phase)
Puten (Beyblade: Metal Masters)
Black Narcissus (Sonic X)
Nanafushi (Naruto)
Hayama Shirakumo (Naruto Shippuden)
Lenard (Scrapped Princess)
Stow (Eat-Men)
Giese Hunt (Yu-Gi-Oh! Duel Monster GX )
Jin (Yu-Gi-Oh! Zexal)
Ochoboguchi-kun (Bobobo-bo Bo-bobo)
Komiyama (Fancy Lala)
Koujo Lin (Ghost Hunt)
Construction Robot (Transformers)
Fuuma Monou (X)
Aoyagi Seimei (Loveless)
Grimlock (Sword Art Online)
Mike (6 Angels)
Shougo Jinnai (Black Blood Brothers)
Takashi Uotani (Tamako Market)
Skull, Baboo (Mighty Morphin Power Rangers)
Vakama (Bionicle 2: Legends of Metru Nui)
Arios (Angelique series)
Calico Macready (Super Robot Wars Alpha 3)
Katekyō Hitman Reborn!
Community content is available under
CC-BY-SA
unless otherwise noted.