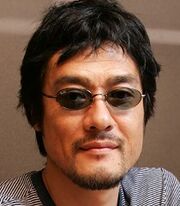 Keiji Fujiwara (藤原 啓治, Fujiwara Keiji?, (October 5, 1964 - April 12, 2020)) was a male seiyū, from the Tokyo Metropolitan area, who was affiliated with Air Agency. He died on April 12, 2020 because of cancer.[1]
Other Notable Roles
Drago, Zenthon, Zenthon Titan (Bakugan Battle Brawlers franchise)
Maes Hughes (Full Metal Alchemist)
Tony Stark/Iron Man (Marvel Anime: Iron Man)
Ali Al-Saachez (Gundam 00)
Maxie, leader of Team Magma (Pokemon: Advanced)
Ladd Russo (Baccano!)
Dinobot (Beast Wars: Transformers)
Holland Novak (Eureka Seven)
Scavenger (Transformers: Armada)
Grimlock (Transformers: Animated)
Megatron (Japanese dub of Transformers: Prime)
Irvine (Zoids: Chaotic Century)
Jack Cisco (Zoids: New Century Zero)
Raiga Kurosuki (Naruto)
Axel/Lea (Kingdom Hearts Series)
Mato, Fiore's King (Fairy Tall)
Shuichi  Aizawa (Death Note)
Jake Martinez (Tiger & Bunny)
Pharaoh Man, Mr. Fabulous (Mega Man NT Warriors)
Yamma (IGPX)
Ryudo Yukiatsu (Ghost Slayers Ayashi)
Esidisi (JoJo's Bizarre Adventure)
Saku Gyousou (Twelve Kingdoms)
Sven Vollfied (Black Cat)
Pohatu (Bionicle: Mask of Light: the Movie)
Joker, Red Hood (Batman: The Brave and the Bold)
Paul (Keroro Gunso)
Cheeda Nick (Tokumei Sentai Go-Busters)
Mr. White (Tenkai Knights)
Kouichi Kizakura (Danganronpa 3: The End of Hope's Peak High School)
Ardyn Izunia (Final Fantasy XV)
References
Community content is available under
CC-BY-SA
unless otherwise noted.