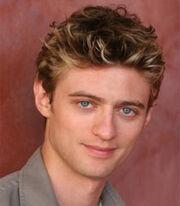 Crispin Freeman
is an American voice actor who is best known for voicing
Gus Grav
in Bakugan: New Vestroia.
Notable Roles
Prince Justtin/Turnip Head (Howl's Moving Castle)
Kouichi Kimura, Lowemon, Jaegerlowemon (Digimon Frontier)
Thomas Norstein (Digimon Data Squad)
Shizuo Heiwajima (Durarara!!)
Zelgadis Greywords (Slayers)
Bjorn Johannsen (IGPX Immortal Grand Prix)
Kyon (The Melancholy of Haruhi Suzumiya)
Alan Gabriel (The Big O)
Kirei Kotomine (Fate/zero)
Shannon Casull (Scrapped Princess)
Kagetsu (Shamanic Princess)
Edo Genbatsu (Ghost Slayers Ayashi)
Red Arrow/Roy Harper (Young Justice)
Breakdown, Grimlock (Transformers: War For Cybertron)
Villius, Slyger (Tenkai Knights)
Various Middle-Earth Characters (Lego  Lord of the Rings)
Gaignun Kukai, Albedo, Jin Uzuki (Xenosaga: Video games)
Regal Bryant (Tales of Symphonia)
Will Turner, Setzer Gabbiani (Kingdom Hearts 2)
Community content is available under
CC-BY-SA
unless otherwise noted.