Info Image Gallery
Article quality

This article needs cleanup.
No Official Name

This article has no official name whatsoever. Its current name is tentative.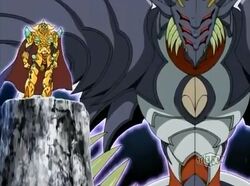 The Chaos Army is the unofficial name of the main villains in Bakugan: Mechtanium Surge during the first arc. They are an army, mostly made of Chaos Bakugan and Mechtogan, led by the former Gundalian Emperor Barodius now turned into Mag Mel.
Leader
Members
Main Members
Bakugan, Mechtogan and Mechtogan Titan
BakuMutant
BakuNano
See more: Chaos Bakugan
Trivia
All of the minor Chaos Bakugan (minus the six used by Teams Anubias and Sellon) are based off of three of the Guardian Bakugan from New Vestroia: Knight Percival, Cosmic Ingram and Neo Dragonoid.
Anubias and Sellon's role in resurrecting Mag Mel is similar to Crusadermon's and Dynasmon's role in resurrecting Lucemon in the anime Digimon Frontier as they're both summoned by their masters, both gathered data to aid in their master's resurrection e.g. Anubias and Sellon gathered battling energy from Bakugan Interspace and Crusadermon and Dynasmon scanned locations in the Digital World, and they're both drained by their masters in order to become powerful.
Chaos Army

 

Chaos Army
Members
Guardian Bakugan
BakuNano
BakuMutants
Mechtogan

Dreadeon

 • Dreadeon Clones

Mechtogan Titan

Razen Titan

 • Razen Titan Clones

,

,

,

,

,

Chaos Bakugan

Cyclone Percival

,

,

,

,

,

 •

Flash Ingram

,

,

,

,

,

 •

Iron Dragonoid

,

,

,

,

,

BakuNano
Chaos Mechtogan
Chaos Mechtogan Titans

Venexus Titan
Community content is available under
CC-BY-SA
unless otherwise noted.