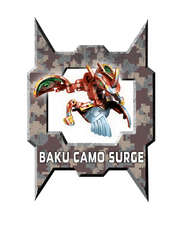 Baku Camo Surge is a type of Special Treatment with a digital camouflage design. The camouflage skin design has multiple colors, some of which can have over 3 different colors at once.
Anime
Reptak, Combustoid, Orbeum, Skytruss, and Jaakor all temporarily became Camo Surges in The Beginning of the End. Jaakor, Orbeum, and Skytruss because of a combined ability, and Jaakor again, Fortatron, Reptak, and Combustoid due to the Battle Suit's camouflage mode.
List
Bakugan
Bakugan Battle Suit
Trivia
On a poster of the full list of the Bakugan: Mechtanium Surge line, the name Camo Surge is translated into "Camo Force". This may be a mistranslation or a first name suggestion.
Gallery
Anime
Physical Game
Community content is available under
CC-BY-SA
unless otherwise noted.