Info Image Gallery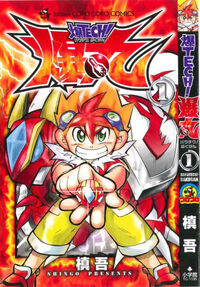 BakuTech! Bakugan (爆TECH! 爆丸, BakuTech! Bakugan?) is a manga featured with Japanese original BakuTech Bakugan by CoroCoro Comic. The series was created and drawn by SHINGO.
An anime adaption began airing on April 7, 2012, on TV Tokyo.
Chapters
Main article: List of BakuTech! Bakugan chapters
There are 10 volumes, and a total of 40 chapters.
Characters
Team Dragaon
The members of Team Dragaon are the main protagonists.
BakuThieves
The BakuThieves are the main antagonists.
Rare Bakugan Hunters
These Brawlers are competitors in the BakuTech Colliseo but have the utmost goal of capturing rare and elusive Bakugan.
Shadow Sanjushi
The Shadow Sanjushi is the newest rival team to face Team Dragaon. They are a trio of ninjas.
Bakugan Dojo
BakuTech Colisseo Competitors
Tavanel Cup Competitors
Other Characters
Unknown Attribute
Appear as Decoration
Community content is available under
CC-BY-SA
unless otherwise noted.