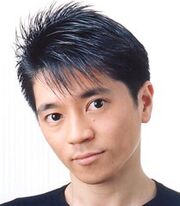 Akio Suyama
(born July 8, 1968) is Japanese Voice Actor who voiced
Akwimos
 in
Bakugan: Gundalian Invaders
.
Other Notable Roles
Nile (Beyblade: Metal Saga)
Patrick (Galaxy Angel)
Gurabu (Zatch Bell)
Birdman (Yu-Gi-Oh! GX)
Snubbull (Pokémon Mystery Dungeon: Team Go-Getters Out of the Gate!)
Purio, Boufuu, No Kishi Vaieito (Superior Defender Gumdam Force)
Nick (Heroman)
Hyou (Nabari no Ou)
Petruchio (Romeo X Juliet)
Hatsuharu Soma (Fruits Basket)
Isaaru (Final Fantasy X)
Zagi (Tales of Vesperia)
Killborero (Zyuden Sentai Kyoryuger)
Community content is available under
CC-BY-SA
unless otherwise noted.